Global-PPS at ECCMID 2022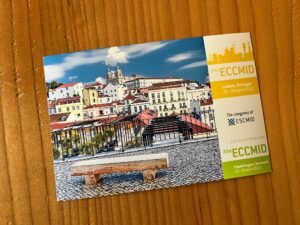 At the 32st edition of the European Congress of Clinical Microbiology and Infectious Diseases (ECCMID), the Global-PPS team from the University of Antwerp and participants from Georgia, Montenegro, and the Philippines present their latest Global-PPS results. This year, ECCMID will take place for the first time as a hybrid event both online and on-site in Lisbon, Portugal on 23 – 26 April 2022.
Five Global-PPS abstracts have been accepted for presentation in a poster session. Due to the hybrid nature this year, poster sessions will occur simultaneously online and on-site. The Georgian team will explore the use of antibiotics in hospitalized COVID-19 patients in Georgia. The participants from Montenegro will present their results on antimicrobial prescribing in 10 Montenegrin hospitals in 2021. The 3rd poster assesses the use of forgotten antibiotics worldwide. Last but not least, the participants from the Philippines will present two posters, one focussing on antimicrobial prescriptions for COVID-19 patients in 2021 in the Philippines. The other poster assesses antibiotic prescribing for surgical prophylaxis in 15 Philippines hospitals during a 4-year period, using repeated Point Prevalence Surveys.
Visit the congress website for information on how to register. You can find all information about the abstract sessions featuring Global-PPS data below.
Sunday, 12:00-13:00 – New antibacterial agents, PK/PD & Stewardship (poster session category 5d, ePoster already available)
The Global Point Prevalence Survey of use of antibiotics in hospitalized COVID-19 patients in Georgia. What the pandemic has changed – Irma Korinteli (poster n° 1431)
The Global PPS of Antimicrobial Consumption and Resistance: Results of Antimicrobial Prescribing in Montenegro in 2021– Maja Raicevic (poster n° 1450)
Assessing the use of forgotten antibiotics through the Global Point Prevalence Survey of Antimicrobial Consumption and Resistance (Global-PPS) – Ann Versporten (poster n° 1426)
Antibiotic prescribing for surgical prophylaxis in 15 Philippine Hospitals: results from a 4-year surveillance period using repeated point prevalence surveys – Mari Rose De Los Reyes (poster n° 1438)
Monday, 12:00-13:00 – COVID-19 (poster session category 12b, ePoster already available)
The Global Point Prevalence Survey of Antimicrobial Consumption and Resistance (Global-PPS): 2021 results of antimicrobial prescribing for COVID-19 patients in The Philippines – Mari Rose De Los Reyes (poster n° 1965)